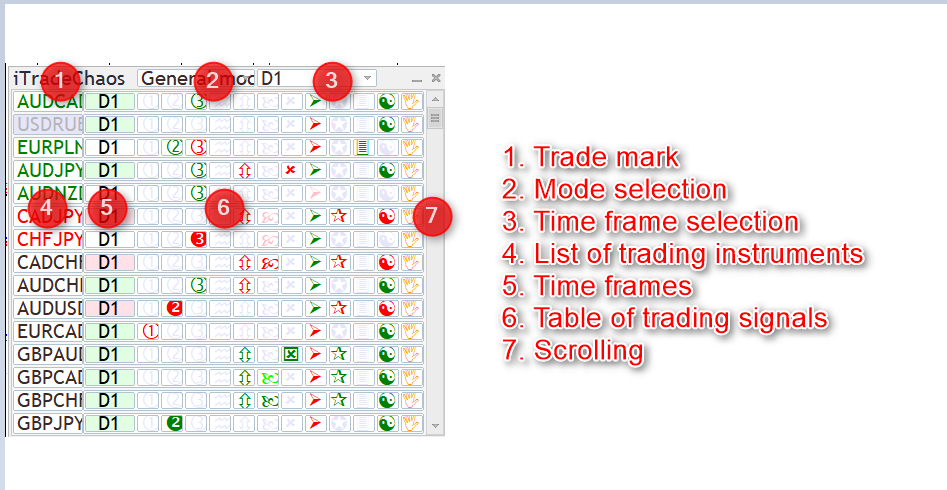 The ability to select the mode of searching for trading signals and time frames allows the trader to group and filter out the favorite patterns on multiple periods.
Symbols of trading signals in the panel.
The red color of the icon means a sell signal, the green color indicates a buy signal. Not bright colors of icons correspond to preliminary trading signals on an unclosed period. Bright and saturated colors – formed trading signals. Preliminary signals are provided in order to give the trader time to prepare for a market signal. Give an opportunity to evaluate it from the technical analysis point of view. The panel allows you to put a pending order to a pre-signal. If the preliminary signal does not take place, the panel itself will cancel the issued order.

– The "First wiseman". Divergent reversal bar.

– The "Second wiseman". Three or more consecutive bars of the histogram of the AO indicator.

– The "Third wiseman". Fractal signal.

– Divergence of price and indications of the histogram of the AO indicator.

– The beginning of zoning.

– A saucer trading signal.

– Cross. The intersection of the zero line histogram. Special blue light.

– The latest signal fractal levels

– Breakdown of the Bollinger Band. Volatility breakthrough.

– Push and revers signals.

– Change of trend. Overcoming the fractal level.

– Management of transactions. Changing the item settings.
The current symbol and the period of the chart are highlighted with a darker background. When you click on the title TF (opposite any symbol), you switch to the selected chart.
When you click on the icon of any of the signals, an additional panel opens with trade specifications.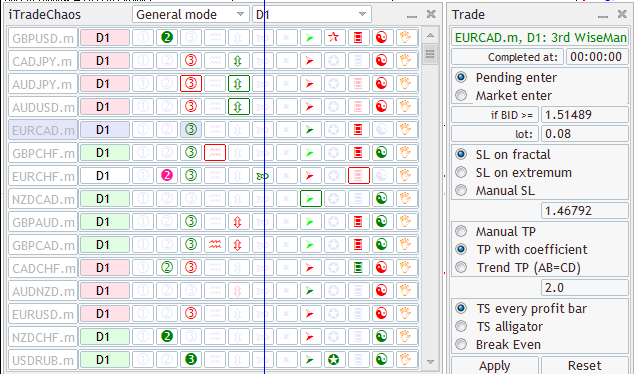 Specify the necessary parameters, and click Apply, all parameters will be saved (and will be restored when the Expert Advisor, terminal, or computer is restarted), and the signal will be circled around the frame. You can proceed to analyze and activate the next signal. Pressing the Reset button resets all settings to default values. The signal trade is disabled and the frame is deactivated.
Available options in the trading area of the panel:
Two input options:
Pending – input when the price breaks through the Bid of the specified level (by default the High / Low level of the signal bar +/- DefaultLuft items is substituted). Tracking level breakout begins after the signal is formed.
Market – entry at the current price. Works for any, incl. unconfirmed, signals.
The lot size is calculated automatically based on the remoteness of the point of opening the position and the distance of the stop-loss.
Three options for Stop Loss:
On the last opposite fractal (- / + DefaultLuft items);
At the last extremum of 3 bars (- / + DefaultLuft items);
At the specified level.
Three options for Take Profit:
Manual;
With a coefficient to SL;
AB = CD;
Three options for Trailing Stop:
By Low / High of each profitable bar (- / + DefaultLuft items);
On the green line indicator Alligator;
Transfer of the order to breakeven;